Veterinary Dermatology Service, P.A. – Dr Helen Globus
Call us at (612) 928-8097
PET STORIES
Dr. Globus's clients share their stories
Vickie Einerson
Vickie's story
Vickie was a healthy, happy, normal Jack Russell Terrier until she was about 18 months old. Then she started scratching and biting
 herself incessantly. Her back was "striped" with lost fur from her scratching, and her feet were raw from her chewing on them. Neither one of us got any sleep at night because of her itching, and she would even have to stop chasing a squirrel to scratch that never-ending itch.
We were referred to Dr. Globus, who immediately set to work to determine how to help. She gained Vickie's (and my) trust by taking the problem seriously and started Vickie on a restricted-food trial. In the meantime, she and Carol tested Vickie for specific allergies. It turned out that, not only was Vickie allergic to our cat and to most of the other known allergens, but Vickie is also allergic to me (human dander). Removing all the allergy triggers just wasn't an option. With a lot of patience and trial-and-error, Dr. Globus kept at the problem and got the worst of the itching under control with a combination of sprays, baths, injections and medication. Not perfect, but much better.
After a few years, as a result of her commitment to keeping up with the literature and new developments in her field, Dr. Globus thought of Vickie when a clinical trial for a new treatment came up. That turned out to be the final step in getting Vickie free of itching.
Now we see Dr. Globus only about twice a year for checkups, and Vickie is again a normal, happy, 13-year-old Jack Russell Terrier
who can chase squirrels without interruption. We are both very grateful to Dr. Globus, who didn't give up and didn't settle for "better," when there was more to be done to make Vickie comfortable. And Vickie loves to hear "let's go see Carol and Dr. Globus."
Blueberry
"Dr. Globus and Carol worked miracles with Blueberry, who had been a miserably itchy dog since day one of adoption. Through their dedication and absolute compassion, Blue is now an itch-free fur-ball full of smiles."
-Karen
Dick & Bev Carbone
We would like to thank Dr. Globus and her staff for the wonderful care, compassion and knowledge they gave us in treating our dog Samantha.
We had been to our Vet and they said there was nothing they could do for Sam, that she would live a short life. We then began investigating and came across Dr. Globus.
When we first brought Sam to see Dr. Globus she was experiencing hair loss on her hind legs. She was constantly scratching to the point her skin would bleed. After testing her we found she had several allergies. With proper food and regular injections she had a complete turnaround. What an amazing change! Her hair grew back and both Sam and our family were much happier.
Noreen Green – Minneapolis, MN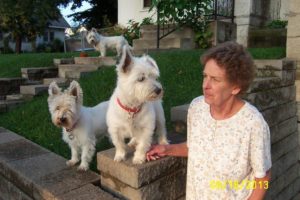 After 2 years of my female Westie having recurring skin and ear problems, my veterinarian referred me to Veterinary Dermatology Service. The treatment she was given cleared up her problems and we had only minor problems after that.
I also had two other Westies that also had skin and ear problems. The first male was 10 years old and the second male was only 1 year old. His were the worst and they weren't sure they could totally clear him up. He had 28 out of 50 things he was allergic to. He has had no problems for a few years now.
I have been a client for about 20 years, had 3 out of 7 Westies with allergies and totally recommend Veterinary Dermatology Service for any skin problems.
Roxanne Drury
First and foremost, Dr. Globus and her assistant Carol are two of the most compassionate people I have ever met. They are simply incredible.
I have a boxer/pit mix named Annie. When she was about three years old she started licking her paws ALL the time. I went to my regular vet and she said it was allergies. I did not want to have Annie on steroids, so I asked what my options were and she referred me to Dr. Globus. I am so glad she did. When a dog has skin issues I'm convinced they need to see a specialist.
At my first appointment Dr. Globus made Annie feel so comfortable (she even sat on the floor with her!). Annie had bacterial and yeast infections on her skin. At that point I asked if we could test her for allergies right away as obviously there was something causing these infections. The test showed several allergies (all environmental). Dr. Globus sent me home with medicine and medicated shampoo for Annie's skin infections and then we started on the allergy shots.
I am pleased to say that six and a half years later Annie is doing amazing. I am so happy my vet referred me to Dr. Globus (and so is Annie!!!)
During the past three years I have referred many people and their dogs to Dr. Globus. I work at a pet food store and a lot of customers have dogs with skin issues. Those customers have come back to the store to thank me for letting them know there is a doctor who is a dermatologist who can help them.
All I can say is if you have a dog with skin issues, do your dog a favor and see Dr. Globus. Annie's quality of life is great…no licking or sores. The shots are simple to give (Carol will teach you how to give shots if you go that route.).
Thank you Dr. Globus and Carol…Annie thanks you the most.
Kim and Sharon B.
Dr. Globus came highly recommended to us by South Metro Animal Emergency Services, which is where we adopted our beloved, but highly-allergic Gus. Gus has been a patient for over three years and is basically on maintenance for his allergy issues. He has occasional flair-ups, and VDS couldn't be more helpful and attentive to his (and our) needs. Dr. Globus and Carol are outstanding caregivers, and not just when it comes to Gus's allergy issues. They have been actively supportive through a couple of very serious, non-allergy related health issues. Carol even calls us back on non clinic days whenever necessary. Stephanie has also been very accommodating with appointments and general questions. The team clearly loves Gus, and he adores them in return. We are very thankful for VDS!
Hattie's Mom
Dr. Globus and her staff have been great! I honestly can't possibly say how wonderful, Dr. Globus, Carol and Stephanie have been to us. My dog, Hattie, had been to a couple of different veterinarians and been on many different types of medicine before seeing Dr. Globus for the first time. After our first visit, I was confident we were in the right place. Everyone has always been super helpful and the treatment completely thorough. We were so lucky to have found these guys and I am happy to report that Hattie is completely back to normal. I really feel like the staff took a genuine interest in getting to the bottom of Hattie's sickness. The staff is always warm and welcoming and you can totally get the sense that everyone has a true love for animals and their health. Hattie is a lucky girl to have a team like this one on her side!
Harvey's Mom
Dr. Globus and Carol worked miracles with my dog Harvey. He was so miserable when we rescued him. With the proper treatment, his quality of life improved dramatically.
We Get to Know You and Your Pet